For Immediate Release
Contact: Dr. Christos Politis (727)822-9208
stpeteurology@gmail.com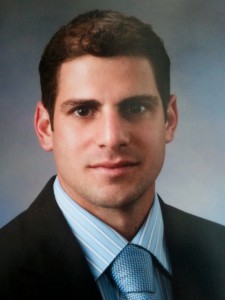 St Pete Urology proudly announces that St Petersburg physician Dr. Nicholas Laryngakis has joined its team of esteemed urologists at the St Petersburg office.
(St Petersburg, Florida) September 19, 2012
Dr. Nicholas Laryngakis has recently joined the team of urologists at St Pete Urology on Central Avenue in St Petersburg, Florida. His arrival allows the medical clinic to serve more patients with urological disorders throughout the St Petersburg area. Dr. Laryngakis received his undergraduate and medical degrees from the University of Florida where he was a member of Alpha Omega Alpha. He later completed his urology residency at the University of Pennsylvania where he received the Outstanding Scholar in Urology Award, as well as the prestigious Howard Pollack Award. He is a compassionate surgeon who is dedicated to making a difference in the lives of his patients.
Dr. Laryngakis specializes in treating overactive bladder, erectile dysfunction, kidney stones, both male and female urinary incontinence, interstitial cystitis, kidney cancer, ureteral cancer, bladder cancer, prostate cancer, penile cancer, testicular cancer, and bladder outlet obstruction. He also has experience in penile prostheses, artificial urinary sphincters, and sacral neuromodulation. Dr. Laryngakis specializes in using minimally invasive and robotic surgical procedures which use smaller incisions and promote less blood loss and minimal nerve and tissue damage. These procedures give patients a faster recovery which allows them to get back to their normal activities in less time.
St Pete Urology is a medical clinic located at 830 Central Avenue, Suite 100, St Petersburg, Florida. The clinic focuses on treating patients with urological diseases and conditions throughout the St Petersburg, Tampa and Clearwater areas. St Pete Urology's team of urologists in St Petersburg have a vast amount of experience and expertise to treat patients with urological disorders such as bladder cancer, prostate cancer, incontinence, BPH, urinary tract infections, and vircocele.
New patients are always welcome at St Pete Urology and most insurance is accepted. For more information or to schedule an appointment, please call the office at (717)233-5888 or visit http://stpeteurology.com/.
Dr. Nicholas Laryngakis on Google Local
Related posts: