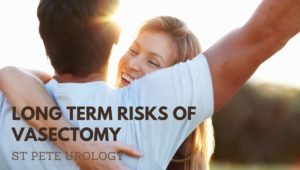 Vasectomy is a one-time male contraception procedure that provides 99.9 percent efficacy in preventing pregnancies. It offers permanent contraception and, compared to the female procedure of tubal ligation, vasectomy is:
Simpler.
More effective.
Safer, with fewer complications to patients.
Much less expensive.
Conveniently performed on an outpatient basis.
Following a vasectomy, you will find sex with your partner more spontaneous and enjoyable. After all, you will no longer have to worry about a potential pregnancy or need to interrupt pleasure to apply contraception.
So what are the long-term benefits and risks of a vasectomy?
Vasectomy is typically performed on younger men in their thirties and forties. These men still have many years of their lives during which long-term health effects might appear.
Luckily, medical studies have examined the long-term health impact of vasectomy and the evidence suggests there are no significant risks. In fact, men who have undergone vasectomy have basically the same risk of developing heart disease, cancer, or other health problems as those who have not.
Let us now consider the specific issues.
1. Vasectomy and testosterone levels
Vasectomy does not affect the secretion and release of testosterone—the male hormone responsible for facial hair, sex drive, deep voice and other masculine traits. Hormonal tests in those who have had a vasectomy show that there is no significant change in both free and total testosterone. Hormone levels in the body remain within normal range. There is also no significant difference in testicular or epididymal size after a vasectomy.
2. Vasectomy and sexual function
Can a vasectomy affect your sexuality negatively? Studies indicate there is no such effect. Apart from changing your fertility, a vasectomy will not influence your sexual and reproductive physiology. The nerves that are critical for erectile function and ejaculation remain intact and you will still achieve normal erections, climax and produce the same amount of ejaculate—only that your semen will not have sperm.
The procedure will not diminish your libido, which is related to various hormones in the body that are not altered by the surgery. Even your sperm production remains normal except that they are reabsorbed in the body. So the only change you are likely to have is ability to enjoy yourself without the worry of pregnancy.
3. Pain, discomfort and abscesses
The cause of post-vasectomy pain syndrome is unclear, but on rare occasions when it occurs, it can be a challenging urological problem. An estimated 1-2 percent of men experience chronic scrotal pain after a vasectomy that ranges from a dull, aching sensation to a sharp, biting pain. There is no single treatment for the pain, but your urology will tailor a solution for you should it occur, and it will rarely require further surgery to reduce or correct.
Abscesses are quite rare after a vasectomy, but they may occur. In typical cases, they result from post-operation infection at the surgical site. Fortunately, most respond to treatment with antibiotics and eventually resolve. However, when left untreated, the abscesses can fill with fluid and may need to be drained. So if you suspect you have an abscess after a vasectomy, you should see your urologist immediately to stop the condition from getting worse.
4. Epididymitis
In 1-3 percent of men who undergo vasectomy, inflammation of the epididymis may occur—a condition called epididymitis. The epididymis is a duct found behind the testicles that allows flow of sperm to the vas deferens. It is highly coiled and very narrow; since sperm still flows through the epididymis to the vas deferens after a vasectomy, the duct may get inflamed when the sperm get backed up as the vas deferens is already severed.
Inflammation of the gland is rare, but is often characterized by tenderness, pain and swelling. Some urologists recommend anti-inflammatory drugs to help with epididymitis, though the swelling should be gone within a week or so after surgery. If it gets worse after the first week, speak with your urologist about it.
5. Sperm granulomas
Cutting the vas deferens during a vasectomy ensures sperm is stopped from reaching scrotal tissues. In some cases, however, the sperm may leak through the cut vas deferens into scrotal tissues. When this occurs, the sperm may form a hard, occasionally painful lump or mass, the size of a pea, called granuloma in the scrotal tissue.
Once formed, a lump can cause small bumps or cysts, which range in size from 1 millimeter to 1 centimeter. Lumps may also produce multiple lesions that tend not to produce symptoms, though some men may experience pain at the granuloma areas. Studies estimate that 15-40 percent of men undergoing vasectomy have sperm granulomas.
While sperm granulomas are not usually dangerous and often gets absorbed by the body, some cause pain and swelling in the genital region. Actually, the entire area may become sensitive to temperature and pressure changes. Most granulomas respond to anti-inflammatory drugs and the sensitivity and swelling subsides within a week after treatment. But in some extremely rare cases, reverse vasectomy may be necessary if the leakage does not stop and the swelling becomes increasingly worse.
6. Vasovenous fistula
This is another rare risk of vasectomy. It occurs when several blood vessels adhere to the vas deferens injured when vasectomy is done. It can cause pooling of blood vessels leading to development of a fistula, or abnormal association between the vas deferens and close by blood vessels. The symptoms of vasovenous fistula may include blood in ejaculate or urine. Although the risk is quite rare, you need to seek immediate medical attention should these symptoms occur.
7. Immune based illnesses
Some men may have immune reactions to the sperm that gets absorbed in their bodies after a vasectomy. The effect is the possibility of immune reactions that may lead to heart disease and other immune-based illnesses. However, many extensive studies have concluded that a vasectomy does not lead to immune-based illnesses or heart disease later in life. In fact, studies show that the risk of immune-based illnesses is so insignificant that it should not concern either the urologist or the patient.
8. Vasectomy and cancer
One serious concern has been the possibility of a vasectomy increasing the risk of having prostate or testicular cancer. A study published in the Journal of the American Medical Association in 1993 suggested that 20 years or more after a vasectomy, men who have undergone the procedure are twice as likely to develop prostate cancer compared to men of the same age group who have not undergone the procedure.
However, reviews of the study by the medical community have since demonstrated that the study did not include enough participants and the findings are therefore not statistically significant. In fact, compared to other studies that have used PSA tests to establish the possible risk of prostate cancer, the general consensus is that vasectomy comes with no increased risk of the cancer.
The risk of prostate cancer among men who have and those who have not undergone the procedure is the same when PSA tests are combined with digital rectal exam, ultrasound or prostate biopsy. Therefore, as a rule, men should undergo prostate cancer screening whether or not they have had a vasectomy. Likewise, there have been no reports of increased risk of testicular cancer after a vasectomy.
At St Pete Urology, we have offered vasectomy services for decades and we are proud of the results. The procedure has minimal long-term risks compared to other surgical procedures and provides men the freedom to enjoy sex without having to worry about a possible pregnancy. And the risk of prostate cancer, testicular cancer, heart disease, immune-based illnesses and other conditions are too insignificant to stop you from having a vasectomy.
We are ready to answer all your vasectomy related questions and concerns during your consultation. For more information, schedule a consultation or visit the St Pete Urology website.