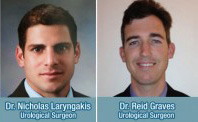 Tampa Urologist serving the urological needs of Tampa, St. Petersburg and Clearwater community. Urologist Dr. Reid Graves has helped thousands of people in the Tampa Bay area to discuss and deal with their most personal health problems. He offers a compassionate, personalized and confindential environment for all his patients. His pratice involves the diagnosis and treatment of urlogical disorders involving the male and female urinary and reproductive tract. Dr. Graves has extensive experience in pure and Da Vinci robot assisted laparoscopy.
Dr. Reid Graves has extensive experience in the diagnosis and treatment of urological diseases and conditions, with an office conveniently located in St. Petersburg, Florida. He combines clinical services and expertise with state-of-the-art therapies. He specializes in BPH, bladder cancer, incontinence, prostate cancer, urinary tract infections, varicocele and also diagnoses and treats general urological disorders.
Dr. Reid Graves and staff members are dedicated to serving the urological needs of the Tampa Bay and surrounding communities. We strive to provide state-of-the-art diagnosis and treatment and believe in rendering the least invasive, most efficacious treatment of urological disorders in a kind, empathetic, manner. We treat each patient as a partner in his or her medical care and make patient education a central component of our care. Because many urological conditions are accompanied by social discomfort or embarrassment, we emphasize sensitivity and discretion when dealing with all of our patients' concerns.
A urologist is a physician who is highly trained to treat disorders of the male and female urinary tract (bladder, ureter, kidney, and urethra) and the male reproductive system. We specialize in a full range of urologic conditions and procedures, including the following:
Dr. Reid Graves specializes in minimally invasive urology, especially the treatment of kidney stones, uretero-pelvic junction obstruction, and urinary tract obstruction from cancer or BPH. For more information about Dr. Graves, please see the Physician page. We would also like to educate everyone, with or without urological problems, by providing information available through this website. Education is a powerful tool in medicine, particularly in the area of disease prevention. The field of urology is no exception. Having sufficient knowledge of certain disorders, such as benign prostatic hypertrophy, urinary incontinence, vaginal wall prolapse, and prostatic cancer, to name a few, can be of great importance. Use these pages to learn more about our practice, Dr. Graves, our services, and urology. We hope you find these pages helpful and informative when making health care decisions.
Common conditions and treatment in urology include:
Cancer diagnosis and treatment
Kidney Stones
BPH
Incontinence
Sexual Dysfunction/Andrology
Infertility
Vasectomies
Dr. Laryngakis & Dr. Graves offers the most up to date surgical options, including:
DaVinci Robotic Prostatectomy for prostate cancer
Holmium Laser Ablation of the Prostate for BPH
Interstim Neuromodulation for Overactive Bladder