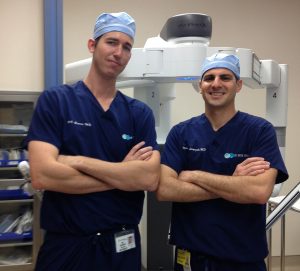 Tampa Urologist serving the urological needs of Tampa, St. Petersburg and Clearwater community. Our urologists have helped thousands of people in the Tampa Bay area to discuss and deal with their most personal health problems. They offer a compassionate, personalized and confindential environment for all his patients. His pratice involves the diagnosis and treatment of urlogical disorders involving the male and female urinary and reproductive tract. Our urologists have extensive experience in pure and Da Vinci robot assisted laparoscopy.
Dr. Reid Graves

Dr. Graves is an expert in minimally invasive surgery. He is extensively trained in the use of the da Vinci Robot. He also specializes in the management of male and female incontinence as well as men's health, including erectile dysfunction, infertility and vasectomies. He is certified in GreenLight Laser Surgery for the treatment of enlarged prostates as well as the use of Botox and Sacral Neuromodulation for the management of overactive bladder. Dr Graves also has advanced training in prosthetic surgery, including the use of male and female slings, penile implants and artificial urinary sphincters. Read more about him on his profile page or find directions to the St. Pete Urology office.
---
Dr. Nicholas Laryngakis

Dr. Laryngakis performs minimally invasive and da Vinci Surgical System robotic procedures and treats patient's urologic diseases with smaller incisions, less blood loss, minimal tissue or nerve damage and a faster recovery. In addition to the diagnosis and treatment of general urologic conditions, he also specializes in the treatment of genitourinary cancer (kidney, ureteral, bladder, prostate, penile, testicular), kidney stones, erectile dysfunction, overactive bladder, male and female urinary incontinence, interstitial cystitis, and bladder outlet obstruction amongst many other conditions. Dr. Laryngakis also has advanced training in procedures such as penile prostheses, sacral neuromodulation, artificial urinary sphincters, slings and minimally invasive laser therapy for urinary stones and prostatic enlargement. He has been active in research and authored several publications on urologic diseases, including kidney and prostate cancer. Read more about him on Dr. Nicholas Laryngakis profile page.
---
Dr. Adam Oppenheim

Dr. Oppenheim treats all aspects of general Urology. He has special clinical interest in kidney stones, erectile dysfunction, prosthetics, and men's health. Dr. Oppenheim is a board certified urologist with St. Pete Urology and is currently affiliated with St. Anthony's Hospital / Baycare Medical Group, Bayfront Medical Center, and Palms of Pasadena Hospital. He is a member of the American Urological Association, Sexual Medicine Society of North America, American Osteopathic Association, American College of Osteopathic Surgeons, and Pinellas County Osteopathic Medical Society. Read more about him on Dr. Adam Oppenheim profile page.
Drs. Reid Graves, Nicholas Laryngakis and Adam Oppenheim are dedicated to serving the urological needs of the Tampa Bay and surrounding communities. We strive to provide state-of-the-art diagnosis and treatment and believe in rendering the least invasive, most efficacious treatment of urological disorders in a kind, empathetic, manner. We treat each patient as a partner in his or her medical care and make patient education a central component of our care. Because many urological conditions are accompanied by social discomfort or embarrassment, we emphasize sensitivity and discretion when dealing with all of our patients' concerns.
A urologist is a physician who is highly trained to treat disorders of the male and female urinary tract (bladder, ureter, kidney, and urethra) and the male reproductive system. We specialize in a full range of urologic conditions and procedures, including the following:
Our urologists has extensive experience in the diagnosis and treatment of urological diseases and conditions, with an office conveniently located in St. Petersburg, Florida. He combines clinical services and expertise with state-of-the-art therapies. Their specializations cover all types of urological disorders such as BPH, bladder cancer, incontinence, prostate cancer, urinary tract infections, varicocele.
Common conditions and treatment in urology include:
Dr. Laryngakis, Dr. Graves & Dr. Oppenheim offers the most up to date surgical options, including: