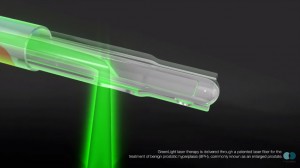 Men dealing with prostate enlargement can now have a non-invasive prostate laser procedure that will reduce troublesome urinary symptoms caused by benign prostatic hyperplasia (BPH). This procedure is known as the Green Light Laser Surgery and it has proven to be very effective in shrinking or removing the excess prostate tissue that blocks the urethra.
GREEN LIGHT LASER SURGERY WILL TREAT THE URINARY SYMPTOMS CAUSED BY BPH
The symptoms most commonly identified are:
Frequent and urgent need to urinate
Starting urination is difficult
Prolonged urination
Urination that starts and stops and then starts again
The bladder does not seem to completely empty.
Some instances of incontinence and urinary retention
LASER SURGERY HAS MANY ADVANTAGES OVER THE TRADITIONAL INVASIVE SURGICAL PROCEDURE
Men on medication to thin their blood will not have to be concerned about the risk of bleeding because the risk is much lower with this procedure. An overnight hospital stay may be required, and it is possible that some men may be able to have the procedure as an outpatient. The recovery time is much shorter than it is with invasive surgery. Another advantage is that catheter use is usually required for less than 24 hours. This procedure results in eliminating the symptoms immediately while more traditional methods such as medications may require weeks or months for noticeable improvements. There is much less risk of experiencing erectile dysfunction with laser surgery compared to traditional surgical procedures.
THE GREEN LIGHT LASER SURGERY TECHNIQUE
This procedure is performed by an Urologist who has received extensive training in this surgery. The patient is given either a general or a localized anesthetic. The doctor inserts a scope into the penis and through the urethra and a laser is then entered into the scope enabling a concentrated light to generate very precise high heat which will melt away the tissue that is constricting the urethra.
THIS SURGERY IS AVAILABLE NOW
Prostate enlargement can be successfully eliminated in st petersburg fl by the urologist who is experienced in solving this aggravating problem. The Green Light Laser procedure is a way to experience the elimination of symptoms without the surgical procedure that requires making an incision and cutting away the tissue. Recovery is faster and the patient will not experience nearly as much discomfort. Urination will be improved immediately and total relief from symptoms can be expected. The web site for St. Pete Urology has information on topics of interest to men who need information on urological concerns.