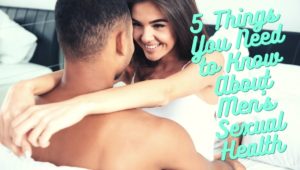 Sex is a critical part of life. It helps in the perpetuation of species and provides an amazing source of pleasure. It ensures intimacy between partners while making bonds stronger and unions enduring. It is also a wonderful form of exercise that releases stress, gets rid of anxiety, boosts prostate health and improves overall health.
What is sexual health?
It is the state of wellbeing that enables a man to engage in and derive pleasure from sexual activity. You are sexually healthy if you have sexual desire (libido), can get and sustain an erection, and can participate in satisfactory sexual intercourse. Sex is a hormone-driven activity that begins at puberty and lasts your entire life.
On average, couples have sex once a week. Each sexual encounter typically lasts 15-30 minutes, though the actual penetration time averages 2 minutes. If you are in a relationship, you may be having less sex than you want due to a lack of intimacy or time. But by working on communication and spending quality time together, you and your partner can improve your intimacy and have a more gratifying sex life.
What should you know about men's sexual health?
Sexual health in men is affected by a number of physical, psychological, social and interpersonal factors. For example, physiological changes can impact both the desire and the ability to have sex, while emotional and mental factors can determine the satisfaction achieved during sexual intercourse.
As a man, the knowledge of the following male sexual health issues can enable you to achieve better sexual and overall health.
Aging and sexual health
With increasing age, changes are bound to occur in your sexual function, most of which are normal. But even in your 80's, you should still be able to enjoy sex and intimacy in your relationship. Nevertheless, one frequent effect of aging on sexual health is loss of libido (sex drive)—often due to decreasing testosterone levels. Loss of libido means you have reduced interest in sexual activity or diminished sexual thoughts. You can also lose your libido because of stress, anxiety, relationship issues, side effects of medication or some medical conditions.
If you are experiencing a reduced drive for sex, look out for the symptoms so you can describe them correctly when you speak with your urologist. One way to deal with reduced sexual urge is to take more time in direct stimulation or foreplay. For changes that occur drastically or refuse to go away after sex therapy, work with your urologist to differentiate normal from abnormal changes and receive proper treatment.
As a rule, do not assume that every change that occurs in your sexual function is because you are growing older. After age 40, make sure you are aware of the following health indicators:
Cholesterol levels
Blood pressure
Blood sugar levels
Testosterone levels
PSA (Prostate-specific antigen) levels
Erectile dysfunction (Impotence)
Erectile dysfunction (ED) means you are not able to get and maintain an erection that is firm enough for satisfactory sexual intercourse. It is a common sexual health issue affecting up to 50% of men above the age of 40. You may experience erectile dysfunction because of blood flow problems such as vascular disease or blood pressure, which are quite common among aging men. But other factors such as certain medications, use of alcohol and drugs, smoking and surgeries involving prostate cancer may also cause impotence.
Fortunately, medications treat 50-70% of ED cases effectively. However, if your condition does not improve with medication, your urologist can apply various non-surgical techniques to promote blood flow. There are also surgical options such as penile prostheses or implants. Surgery is not advisable as initial treatment; but when done as a last resort it usually delivers satisfactory results.
In some cases, erectile dysfunction is not due to a detectable physiological problem. Your urologist will evaluate your condition in terms of emotional or mental well-being and may recommend you work with a sex therapist. Stress, anxiety, depression or other emotional or psychological problems can often be alleviated by therapist who encourages a comfortable, honest and confidential discussion of the problem.
Peyronie's disease
Peyronie's disease develops when scar tissue or plaque occurs inside the erectile tissue of the penis. Though the actual cause of scar tissue formation is unknown, many men have suffered the condition following a minor trauma that elicited bleeding inside the penis. The resulting plaque is usually benign and noncancerous, but it tends to cause the bending of the penis downward or upward depending on its location.
Men with Peyronie's disease usually experience pain during an erection and find it difficult to have sex. If you have this problem, you need to see a urologist for a timely diagnosis and treatment. The condition is diagnosed using an ultrasound exam which gives a clear picture of the erectile anatomy and function. Most cases of the disease are mild and the initial pain disappears within 6-12 months, allowing patients to return to normal sexual activity. Urologists treat remaining plaques using personalized treatment plans.
Ejaculation disorders
Ejaculation issues in men include premature ejaculation, inhibited (delayed) ejaculation and retrograde ejaculation. When you have premature ejaculation it means you are not able to delay ejaculation until the point when it is mutually desirable for you and your sex partner. It is the most frequent ejaculation issue, particularly among younger men.
Inhibited ejaculation means your ejaculation occurs slowly or never happens at all. Both premature and inhibited ejaculations have psychological causes, such as anxiety about sex, performance or trauma. But there are techniques that can be used to overcome these issues and a qualified therapist can help you. Speak with your urologist for treatment and referral to a sex therapist when necessary.
Retrograde ejaculation means the ejaculate is forced back into your bladder instead of through the urethra and out of the end of the penis at orgasm. It can be due to nerve damage, side effects of medication or surgery for bladder or prostate.
When you experience retrograde ejaculation, your urologist will change your existing medications or prescribe new ones to treat the issue. However, if the problem is caused by surgery, it might not be correctable. But that should not worry you as treatment is not usually medically necessary with retrograde ejaculation unless pregnancy is your goal.
Vasectomy is permanent contraception
Vasectomy is a simple, effective and minimally invasive surgical procedure offered as a permanent method of birth control. The 30-minute procedure involves cutting tubes that transport sperm within the male reproductive system.
The procedure does not affect the sexual health of a man and is very effective in preventing pregnancy. While vasectomy can be undone, the reversal is quite complex and comes with a lower chance of success. The time to undergo a vasectomy is when you are sure you no longer need to make your partner pregnant, for whatever reason, and consider it as a permanent method of birth control.
At St Pete Urology, we offer timely help to men with sexual health issues. We believe that speaking about these issues with a skilled and experienced urologist will help you resolve them. We also remind our clients that any sexual health issue that lasts several months may be an indicator of a more serious underlying medical issue that needs to be treated.
For instance, premature ejaculation may be due to nerve damage, medication or underlying urinary conditions. Problems with libido or erection may be the first indicator of diabetes or hormonal imbalance; while problems with erection may be due to underlying prostate cancer or cardiovascular issues. Hence, seeing a urologist for your sexual health may help uncover a potentially life-threatening condition.
Of course, there is also a connection between your overall health and your sexual health. In fact, hormonal, cardiovascular, neurological and psychological systems all contribute to your sexual performance. A healthy lifestyle that includes a good diet, healthy weight and regular exercise will promote your overall health while enhancing your sexual health and performance. For more information on men's sexual health issues, visit the St Pete Urology website.