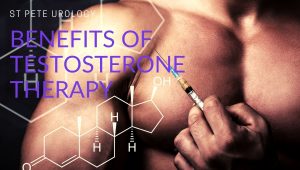 Low testosterone can diminish a man's sex drive, energy, motivation and performance. This is why testosterone replacement therapy (TRT) is recommended for men whose blood levels of the hormone testosterone have fallen below the normal range. Additional symptoms of low testosterone may include facial and body hair loss, decreased muscle mass and fatigue or irritability and anger. Supplemental testosterone administered by gel, injection or skin patches can restore hormone levels back to normal and enhance both physical and mental health.
What is a normal testosterone level?
The normal levels of testosterone for men range from 300 to 900 nanograms per deciliter (ng/dL). When levels fall within this range, there is little to be gained from testosterone therapy. However, this range is only for total amount of testosterone and does not present the whole picture.
Urologists will also measure what is called free testosterone, the amount of testosterone that is active in a man's body at a given time. A man with a normal range of total testosterone may still experience classic symptoms of low testosterone if his free testosterone level is low. Free testosterone level is the better indicator of whether treatment will be beneficial.
Benefits of testosterone therapy
Low free testosterone is a major factor in sex difficulties for men which is why testosterone replacement therapy can be an effective way to renew interest in sex and boost the ability to achieve and maintain an erection and orgasm. In addition, restoring normal testosterone through treatment has several benefits beyond sexual performance.
According to several medical studies, testosterone therapy can reduce the health problems related to diabetes, osteoporosis, metabolic syndrome and even obesity. Treating low testosterone helps to strengthen bones and prevent osteoporosis. There is also evidence that testosterone boosts blood sugar control and aids in preventing diabetes. Likewise, testosterone therapy can improve anemia and reduce the risk of cardiovascular disorders.
Testosterone also plays a critical role in how long a man lives. Studies have shown that there is a link between low free testosterone and shorter life expectancy in men. This link may be due to the role testosterone plays in reducing fat in the body while increasing muscle mass, indicating that the therapy is good for overall health.
Should you try testosterone replacement therapy?
If you are experiencing problems associated with low testosterone and considering this treatment, it is important to see your urologist or physician first to discuss whether the therapy will benefit you. A urologist will review your medical history, perform an examination and order tests for both total and free testosterone before suggesting a treatment that can dramatically improve your quality of life. For more information, visit the St Pete Urology website.