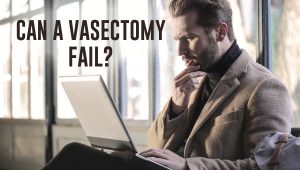 A vasectomy is a form of male contraception that is administered through a minor surgical procedure. During a vasectomy, the patient's vas deferens are cut and the ends are tied up or seared so they are blocked. The vas deferens is made up of two narrow tubes that transport sperm to the ejaculatory duct during ejaculation. A vasectomy inhibits the transportation of the sperm to the duct, so only seminal fluid is discharged when a man ejaculates. The absence of sperm removes the possibility of conception. A vasectomy is considered to be the most efficient form of birth control. However, there are instances, though very rare, in which pregnancy occurs even after the man has had a vasectomy.
Reasons why a vasectomy may fail
1. Recanalization
This is a medical term for when the cut vas deferens reconnect and revert to something like what they were before the vasectomy. This process happens naturally when tissue from the cut ends gradually grows until the two ends reach one another and reconnect.
Tiny channels also can form in the healing scar tissue of the snipped vas deferens and provide a passageway for sperm from one end of the vas deferens to the other.
2. Surgical error
In very rare cases, surgeons have been known to make an error during the procedure. This might mean either that the vasectomy was not done at all or that it was done in a manner that might cause it to fail.
Such errors could be:
a. Cutting one vas deferens and leaving the other;
b. The surgeon cuts completely different tubes that are not the vas deferens; and
c. In the very rare cases where the patient has duplicated vas deferens, that is to say two vas deferens on each side rather than one on each side as is the normal case, and the urologist cuts only one of the two .
d. Having intercourse too soon
Men who have had vasectomies are always advised to avoid having sex too soon, and if they do, to use another form of contraception. This is because semen does not become clear of sperm immediately after the vasectomy. The standard practice is to wait for three months after the procedure. After the three months, a urologist should conduct a semen analysis and advise accordingly.
Vasectomies are largely successful. Any man considering it has absolutely no reason to fear that it will fail because they rarely do. However, after undergoing the procedure, the patient must take care to observe all guidelines given by the urologist. A little anxiety before the procedure might be expected but the advice of a trained urologist, such as those available at St Pete Urology should dispel the worry. The team of specialists at St. Pete Urology can help with questions, consultation, surgery and follow up steps for a vasectomy. For more information, visit the St Pete Urology website.