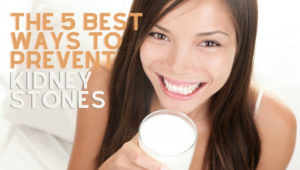 When certain chemicals become concentrated in urine, they coalesce into crystals. The crystals then grow into larger mineral deposits called kidney stones. Most kidney stones form when calcium combines with either phosphorous or oxalate, but some form from uric acid, a byproduct of protein metabolism. Once formed, kidney stones can make their way through the urinary tract and pass from the body without problems. At other times, a stone will get stuck somewhere, block urine flow and cause intense pain.
Growing concern
Kidney stones are a rising concern. In fact, one in ten people will have kidney stones during their lifetime. Currently, up to 12% of Americans have stones and those who have had one are 50% more likely to get another within the next 10 years if no preventive measures are taken.
The passing of kidney stones is often characterized by agonizing and intolerable pain that comes in waves as the stones move through the urinary tract and out of the body. The pain may occur on one side of your back or abdomen, or it may radiate to your groin and belly area. While the severity of the pain does not necessarily relate to the size of the stone, larger stones tend to be more painful than smaller ones.
What are the 5 best ways to prevent kidney stones?
1. Drink plenty of fluids.
When you pass a lot of urine every day, you have a lower risk of developing kidney stones. The more you urinate, the lower the chance of stone-causing minerals settling and combining in your kidneys and urinary tract. Drink plenty of water to ensure you urinate up to 2 liters of urine daily. You will need roughly eight 8-ounce cups of water to achieve that. Orange juice and lemonade are also good because the citrate they contain helps prevent stone formation.
If have a history of cystine stones, engage in heavy exercise or just sweat a lot, you should drink even more water. Demanding workouts increase water loss through sweating and reduce urine output, so keep your body hydrated during and after exercise. You can tell if you are properly hydrated by the color of your urine. A clear to pale yellow urine means proper hydration while a dark color indicates a need for more fluids.
2. Increase your calcium intake.
Calcium oxalate stones are the most common kidney stones. But that does not mean you should avoid calcium-rich foods—actually the opposite is true. A low-calcium diet increases the risk of stones and osteoporosis. A calcium deficiency allows oxalate levels in urine to rise, triggering the formation of stones.
A good approach is to enhance your daily intake of calcium according your age. For instance, if you are a man 50 years or older, you need 1,000 milligrams (mg) of calcium per day, together with 800 to 1,000 international units (IU) of vitamin D to help with calcium absorption.
Calcium-rich foods include cheese, milk, and yogurt. Avoid calcium supplements as they may increase your risk of kidney stones; however, you can reduce that risk by taking supplements with your meals. It is always a good idea to speak with your doctor when considering supplements and dietary changes.
3. Eat fewer oxalate-rich foods.
Oxalate is a natural compound found in some foods. Since it binds with calcium in urine to form kidney stones, reducing oxalate-rich foods helps prevent stones from forming. Examples of foods rich in oxalate are chocolate, spinach, coffee, peanuts, beets, rhubarb, sweet potatoes, beets and wheat bran. Colas should also be avoided because they are rich in phosphate.
If you have suffered from kidney stones, your doctor may recommend you avoid these foods or consume them in smaller quantities. However, you can also eat oxalate-rich foods alongside calcium-rich foods as an alternative to avoiding them. Calcium and oxalate can bind together to actually reduce the risk of kidney stones.
4. Reduce your sodium intake.
When your diet is high in sodium, the amount of calcium in your urine increases. Sodium prevents calcium re-absorption from urine to blood, which in turn leads to high calcium in urine that may cause kidney stones. Reducing sodium intake lowers the amount of calcium in your urine.
The recommended daily limit of total sodium intake is 2,300 mg. But if sodium has contributed to your kidney stones in the past, you should reduce intake to 1,500 mg per day. Your doctor may advise that lowering sodium benefits your blood pressure as well. It is easier to lower sodium intake by avoiding foods such as:
Processed foods, like crackers and chips
Canned vegetables
Canned soups
Condiments
Lunch meat
Foods containing sodium nitrate, monosodium glutamate, or sodium bicarbonate (baking soda)
5. Limit intake of animal proteins.
Animal proteins not only raise the amount of uric acid in your body, they also increase body acid levels. Increased urine acidity promotes the formation of both uric acid and calcium oxalate stones.
Need help dealing with kidney stones?
St Pete Urology brings together a multidisciplinary team of experts in urology, nephrology and nutrition to offer a single point of care for patients with acute or recurrent kidney stones. We treat kidney stones using the latest minimally-invasive and nonsurgical procedures, including ureteroscopy, extracorporeal shockwave lithotripsy and percutaneous nephrolithotomy. We also have advanced tools such as Holmium lasers and specialized ultrasound and ultrasonic equipment.
At St Pete Urology, we don't just treat kidney stones. We aim to prevent their recurrence. Our focus is on the overall health of our patients with the goal of making their first kidney stone incident their last. For more information on the prevention, diagnosis and treatment of kidney stones, visit the St Pete Urology website.