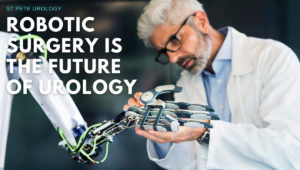 The medical field of urology has long embraced technology by adopting innovative equipment and techniques soon after they are developed. One technical innovation that has been at the forefront of medical treatment is robotic surgery. Presently, robot-assisted techniques account for up to 50% of urologic surgeries. And in several types of procedures, particularly in cancer therapy, robotic surgery has become the standard approach.
Growing dominance
In recent years, urology training programs have increasingly emphasized instruction in robotic systems. In fact, more than 70% of existing urology training and subspecialty fellowships focus on teaching minimally invasive laparoscopic and robotic procedures. With this continued emphasis during medical training, robotic systems are likely to become the leading method of urology surgeries.
Standard approach
Robotic surgical systems have become the standard approach in performing radical prostatectomy. When used properly, they result in reduced blood loss and scarring, decreased risk of nerve damage and preserved erectile function. Robot-assisted surgery is also the standard technique for partial and total nephrectomy (removal of the kidney). Robotic nephrectomy has a significantly shorter operating time, minimizes blood loss, and requires a shorter hospital stay than traditional open surgery.
In addition, robotic approaches have ensured that even the more technically challenging procedures are standardized, as with intra-corporeal urinary diversion and radical cystectomy. Urologists can now perform robotic cystectomy with intracorporeal diversions resulting in reduced complications.
Increased efficiency
Since urologic laparoscopic procedures are technically quite challenging, robotic systems have increasingly become the more efficient alternative. For instance, the da Vinci robotic system has finer surgical instruments that allow for smaller keyhole incisions. This gives urologists a high degree of freedom when working with very small spaces and ensures precise tissue dissection and surgical manipulations.
With da Vinci robotic surgery, the 10x magnification and high-definition imaging of internal structures ensures that nerves and tissue are unharmed. By facilitating the identification of key anatomic structures, the robotic system makes complex surgeries more successful.
Greater patient satisfaction
Robotic surgical systems have established minimally-invasive procedures as the centerpiece of urologic surgery. Urologists can now perform bladder, kidney, and prostate removal with superior pre-operative and post-operative outcomes compared to open surgery.
The benefits of the da Vinci robotic surgery have triggered a rising patient demand for robotic surgery. Most patients want a reduced risk of bleeding and shorter recovery time. With increased patient demand, robotic surgery will become even more in demand.
Revolutionized cancer therapy
Robot-assisted surgery has changed the way urological cancers are treated, allowing for the removal of bladder and kidney tumors using minimally invasive techniques. In younger patients with testicular cancer that has already spread to the lymph nodes, robotic surgery can now be used as an alternative to radiotherapy.
The da Vinci surgical procedure provides a superior prostate cancer survival rate and ensures that the prostate cancer is treated without postoperative urinary or erectile problems. It also enables urologists to conduct salvage operations on patients with recurrent cancer, helping to avoid or delay the need for chemotherapy.
At St Pete Urology, we believe robotic surgery is the future of urology. We are continually investing in cutting-edge robotic equipment and procedures that enable us to do a wide array of minimally invasive surgeries that achieve optimal outcomes for our patients. For more information on urologic disorders and surgical procedures, visit the St Pete Urology website.