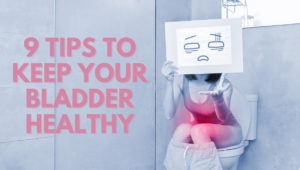 The bladder's function is to store urine and allow urination to be infrequent and controlled. Bladder problems may lead to bothersome issues such as incontinence, infections and overactive bladder. While you may not be able to prevent every possible bladder problem, taking appropriate measures can help to lessen many of them.
What should you do to keep your bladder healthy?
1. Drink plenty of fluid
Drinking plenty of fluid increases the volume and frequency of urination, which in turn helps to flush out bacteria from your bladder. Water is the best fluid for your bladder and should be at least half of your daily fluid intake.
Ideally, you should drink 6-8 eight-ounce glasses of water every day. But if you engage in intense exercise or activity, you may need to drink more to compensate for fluid loss. On the other hand, if you have a condition such as heart disease or kidney failure, you may need to drink less. Speak with your doctor about how much fluid is right for you.
2. Avoid smoking
Smokers are more likely to develop bladder control issues than non-smokers. Cigarette smokers also tend to have more severe bladder symptoms. For heavy smokers, there is a tendency to develop a chronic cough, which exerts added pressure on the bladder and worsens urinary incontinence. Plus, tobacco smokers are three times more prone to bladder cancer than non-smokers. Avoiding cigarette smoking is good for your bladder health.
3. Get active
Physical activity not only relieves bladder problems but also prevents fluid buildup in the legs. Fluid retention in the legs—usually due to heart disease or a sedentary lifestyle—can lead to bladder control issues. You can reduce fluid retention through low-impact moderate activity such as biking, swimming or walking briskly for at least 30 minutes at least 5 days a week.
4. Do Kegel exercises
Weak pelvic floor muscles are a common cause of urine leakage (incontinence). Kegel exercises target and strengthen pelvic floor muscles and keep urine from leaking when you sneeze, laugh, lift or have a sudden urge to urinate. Speak with your urologist about what kind of exercise will benefit you the most.
5. Avoid bladder irritants
Certain foods and beverages can irritate the bladder and trigger bladder problems. Known bladder irritants include alcoholic beverages, apples, apple juice, bananas, brewer's yeast and carbonated drinks. Others are chilies, chocolate, citrus fruits, coffee, cranberries, grapes, nuts, raw onions, raisins, soy sauce, tomatoes and vinegar.
While you don't have to stop eating your favorite foods and drinks entirely, reducing the amounts can improve your bladder symptoms.
6. Maintain a healthy weight
Being overweight is a risk factor for incontinence, particularly stress incontinence. The excess weight exerts more pressure on the abdomen and bladder and weakens pelvic floor muscles. In fact, nearly 50-percent of older people who are overweight struggle with bladder incontinence.
By losing weight in the abdominal area, you can reduce pressure on the bladder and pelvic muscles and improve bladder control. In many cases, weight loss improves incontinence symptoms or gets rid of them completely. Make healthy food choices and engage in regular exercise to achieve and maintain a healthy weight.
7. Prevent constipation
Bladder problems are quite common in people with constipation because a full rectum presses the bladder wall causing either outflow obstruction or increased spasm. Also, constipation makes pelvic muscles overactive, which causes dysfunction in stool and urine elimination and leads to an overactive bladder. You can reduce constipation by drinking enough water, eating high-fiber foods (like whole grains, fruits, and fresh vegetables), and being physically active.
8. Manage medications
Some medications can trigger bladder control problems. For example, high blood pressure prescriptions tend to increase urine output and relax bladder muscles resulting in urine leakage. Drugs such as antidepressants, muscle relaxants, antihistamines, sedatives, and tranquilizers may hinder bladder contraction and reduce awareness of the need to urinate.
You should not stop taking your medications just because you suspect they are responsible for your bladder issues. Instead, and before making any change, speak with your doctor about your concerns. The doctor may adjust the dosage or offer a different medication. In cases where the benefits of the medications far outweigh the related bladder issues, your doctor will work with you on alternative ways to ease symptoms.
9. Flush out bacteria
Proper cleaning of the genital area before and after sexual intercourse helps to reduce bacteria and prevents bladder infections. Passing urine before and after sex helps to flush out bacteria and stops their entry into the urethra during sex.
Since holding urine in the bladder for too long increases the risk of infection and can weaken bladder muscles, make sure to pass urine as often as possible. Use the bathroom at least every 3 to 4 hours, and when urinating, don't rush. Take your time to fully empty your bladder.
At St Pete Urology, we provide expertise in the diagnosis and treatment of urinary disorders. Our urology specialists will work with you to develop an individualized treatment plan for your problems. We value our multidisciplinary and compassionate approach to caring for our patients. For more information on the prevention, diagnosis and treatment of urinary disorders, visit the St Pete Urology website.