A urologist is a medical doctor who specializes in the urinary system, which includes kidneys, bladder, urethra and ureters. Urologists also specialize in issues related to the male reproductive system. Specialization in this field requires a great deal of education. Urologists go through four years of medical school followed by five years of specialized training focusing specifically on urology. By the time a urologist enters a practice they are experts in their field.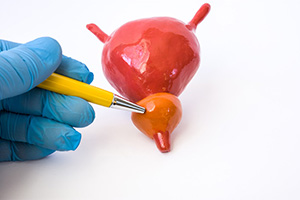 There are many reasons why your primary care doctor may recommend a urologist. Urologists help patients with issues like urinary tract infections, stubborn kidney stones, enlarged prostates, incontinence and pelvic prolapses. There are also various forms of cancers that urologists monitor and treat, like prostate cancer. For men, their urologist can be their main point of contact for issues like erectile dysfunction.
Urologists have a variety of tools to help their patients achieve positive outcomes with whatever issue they may be facing. They will consult with their patients to determine what is the best method to treat each individual's medical issue. Treatment options will vary case to case. Treatments can be both surgical and non-invasive. For example, a urologist may perform surgery to implant stints in the urinary tract to help with kidney stones or perform biopsies on prostates with cancer. Urologists may use new technologies like HIFU, which uses ultrasound waves to break up kidney stones.
A patient seeing a urologist for the first time can expect an experience similar to seeing any other kind of doctor. The appointment might include collecting a urine sample, depending on the reason for the visit. A first visit usually will include a questionnaire about patient's health history and issues. It is important to answer these questions as truthfully as possible, even though discussing issues regarding incontinence, urinary issues or erectile dysfunction can be embarrassing for many patients. It is helpful to remember that urologists deal with these issues on a daily basis and are accustomed to having these conversations with their patients. There is no issue a patient should be too embarrassed to discuss.
For some patients, seeing a new doctor can be frightening. At St Pete Urology, doctors understand this and work to create an open environment where doctors and patients can achieve positive and sometimes life-changing outcomes. For more information, visit the St Pete Urology website.