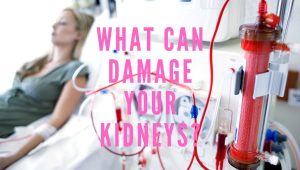 The kidneys are a pair of organs located on either side of the spine just above the waist. Healthy kidneys work as your body's filtration system. They help balance water and minerals in your blood. They remove waste from the blood that develops from digestion and muscle activity. In addition to filtration, the kidneys make renin to help manage blood pressure and vitamin D for bone health, among other things. There is no question that the kidneys are an important and hard-working pair of organs.
Like any other organ in the body, there are factors that can damage and affect the kidneys ability to perform their vital functions. Acute kidney problems are those that happen suddenly or in a brief amount of time. Some examples of acute kidney problems are direct trauma to the kidneys, not enough blood flowing to the kidneys, or urine backed up in them.
There are a variety of factors that can cause acute kidney problems. Traumatic injury can be caused by an incident like a car wreck or severe fall. Extreme dehydration can cause the kidneys to begin to fail. Certain drugs can release toxins that in large quantities can cause kidney failure. In men, both an enlarged prostate and kidney stones can restrict urine flow to the point the urine becomes backed up in the kidney.
Chronic kidney damage occurs when the kidneys have not been working correctly for longer than three months. Chronic kidney damage is usually the result of disease over long periods of time. High blood pressure and types 1 and 2 diabetes are the most common reasons behind chronic kidney damage. In addition to high blood pressure and diabetes, chronic kidney damage can also be attributed to illnesses like lupus, HIV/Aids, hepatitis, and urinary tract infections within the kidneys.
Urologists have many tools to help with prostate and kidney stone issues. They can remove tissue from an enlarged prostate, relieving pressure on the urethra and freeing up the flow of urine. They also have ultrasounds that use sounds waves to break up large kidney stones that can be restricting urine flow. In both cases, being able to rid the kidneys of urinary toxins can be lifesaving.
There are many factors that can damage your kidneys. St Pete Urology has urologists that understand the causes of kidney damage and what can be done to produce good outcomes and better lives for those who have suffered kidney damage. For more information, visit the St Pete Urology website.