A kidney stone is a solid piece of mineral substance formed in the kidney or urinary tract when normal substances found in urine become too concentrated. Once formed, a stone may remain in the kidney or pass through the urinary tract and eventually move out of the body. Kidney stones are a very common urinary tract disorder that can affect almost anyone. In America, one in every ten people has a kidney stone.
How do you know if you have a kidney stone?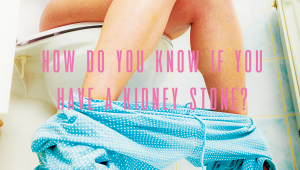 It is almost impossible to know that you have kidney stones until symptoms appear. In fact, most kidney stones are difficult to detect until they begin to move from the kidney through the ureter (the tube that connects the kidney to the bladder) and down the urinary tract. It is this movement that tends to cause irritation and blockage in the urinary tract and result in the severe pain and discomfort that is associated with kidney stones. Nevertheless, some kidney stones may lodge in an area of the kidney or urinary tract and cause noticeable symptoms.
To know if you have a kidney stone, you should first acquaint yourself with the symptoms. Knowing the symptoms of kidney stones will then allow you to suspect the condition as soon as you experience any symptoms and to seek immediate medical attention. A prompt visit to a urologist will ensure that your condition is accurately diagnosed and treated effectively.
Here are various ways of knowing if you have a kidney stone.
1.Sharp, excruciating pain
The presence of a kidney stone is often marked by a sharp, excruciating pain on one side of the lower abdomen or upper back. The pain typically starts suddenly and then lingers for a long period, becoming more intense with time. The pain also may spread and affect a larger area, including the groin area, area below the ribs and genitals. The pain can be constant or it can come and go in waves, lasting for a few minutes and then disappearing before starting again in about 10 minutes. The pain also may last for a longer period, but with fluctuating intensity as the stone moves and changes its position in the urinary tract. The nature and intensity of pain caused by kidney stones depends on the size of the stone, its location in the urinary tract and whether or not it has caused damage, blockage or irritation in the delicate structures of the urinary tract.
2. Urination problems
Apart from causing severe pain, kidney stones also result in a variety of urinary problems. The following urinary issues will help you to know that you have a kidney stone:
(a) Pain during urination.
(b) Red, brown or pink colored urine.
(c) Cloudy or foul-smelling urine.
(d) Urge to urinate, which is stronger and more frequent than usual.
(e) Dribbling urine in small quantities.
3. Gastric distress
You can know that you have a kidney stone if you have pain and any of the following symptoms:
(a) Nausea
(b) Vomiting
(c) Chills
(d) Fever
One or more of these symptoms may indicate that you have a urinary tract infection and therefore need antibiotics. Make sure to visit a doctor as soon as possible if you have these symptoms.
4. Clock clues
Linking your symptoms to the time of the day also may help you to know that you have a kidney stone. Typically, the pain caused by kidney stones usually begins either early in the morning or late at night. This is due to the fact that people urinate less frequently in the early morning or late at night and the ureter remains highly constricted, allowing the stones to irritate the delicate structures of the ureter and cause pain. Therefore, monitoring the time pain occurs will enable you to tell whether or not it is caused by kidney stones.
Diagnosis of kidney stones
While the clues you get from the symptoms may be sufficient to help you suspect that you have a kidney stone, the only definitive way of knowing you have a stone is to visit a doctor for diagnosis and treatment. Generally, it is recommended that you see a doctor if you:
Experience pain so severe that you are unable to stand, sit or lie down comfortably.
Have serious pain in your belly.
Have nausea or vomiting.
See blood in your urine.
Find it difficult to urinate.
When you visit a urologist, be ready to describe your symptoms clearly, including when and how they started. If possible, write them down, together with a list of the medication, vitamins and supplements you are taking. For instance, some medications such as diuretics, calcium-based antacids, topiramate (Topamax) and Indinavir (Crixivan) may cause kidney stones. You also should keep track of the amount of fluid you drink and the quantity of urine you pass in a 24-hour period.
The doctor will confirm that you have kidney stones by requesting various tests. These may include blood tests for the presence of calcium or uric acid in blood, since a buildup of these minerals may precipitate kidney stones. The doctor also may request urine tests, often on a urine sample collected in a 24-48 hour period. Apart from lab tests, the doctor may request imaging studies. For example, X-rays may be used to accurately show that you have kidney stones, particularly larger stones; computed tomography (CT) scans can be used to take in-depth images of the urinary tract from several angles, helping to identify smaller stones that X-rays can't recognize; while ultrasound can be used to create clear images of the urinary tract in order to spot various sizes of kidney stones.
Treating kidney stones
Once the doctor confirms that you have kidney stones, you may be given a special strainer which you use every time you pass urine. The strainer will help you to collect any stones or pieces of stones you may pass. If you succeed in collecting a kidney stone, the doctor will send it to the laboratory for analysis. Knowing the type of kidney stone you have will help your doctor to recommend effective ways of minimizing the risk of such a stone in the future.
Most stones, though quite uncomfortable, will not cause serious damage to your body. So your doctor most likely will recommend that you wait for the stones to pass on their own. It may take a few days to several weeks for a stone to move from the kidney to the ureter and through the bladder to the outside of the body. Your doctor will prescribe pain medications and anti-nausea drugs and then recommend that you go home and wait for the stones to pass. Drinking 2-3 quarts of water every day also is recommended as a way of flushing out your urinary system.
But if through imaging studies the doctor finds that your kidneys stones are too big to be passed at home or notices that you have serious signs of infection, the doctor will use a medical procedure to remove the stones while you are at the clinic or hospital. For instance, lithotripsy is an effective procedure that relies on shock waves to break down larger stones into smaller pieces for easy removal. In cases where lithotripsy is either ineffective or inappropriate, the urologist will use a more invasive method such as inserting a ureteroscope (a special scope) into your urethra or reaching the stone via an incision, a technique called percutaneous nephrolithotomy.
Make sure to seek emergency treatment of kidney stones if you:
Have fever and chills, which are indicators of an infection.
Experience a total failure to pass urine.
Have a history of kidney removal and only have one kidney.
Develop severe fatigue or confusion.
Have severe nausea or vomiting.
Emergency treatment should be sought even if the symptoms are mild. For more information and help with kidney stones, visit the "St Pete Urology" site.
Comments
comments