Urologists are not only specialists for men but also providers of essential medical services for women. Trained to treat urinary tract problems both medically and surgically, urologists offer the best treatment for bladder control issues and other disorders of the female urinary tract and reproductive system. So when faced with urological issues at any stage of life, women may need to see these doctors for quick resolution of the problems. In fact, women should consider seeing urologists when having frequent urges to urinate, leaking urine, pain in the sides or back, bloody urine, and burning or pain during urination. The 5 essential reasons why women should see a urologist are:
1. Overactive bladder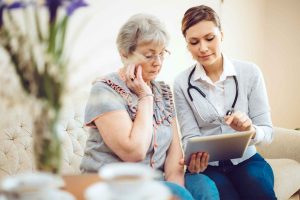 Characterized by a sudden, uncontrollable urge to urinate, waking more than once at night to urinate and urinating 8 or more times in 24 hours, overactive bladder affects many women of all ages and has several potential causes. Since treatment for the condition is dependent on the identified cause, it is important to see a urologist to carry out tests in order to determine the cause and recommend the best treatment. At St. Pete Urology in St. Petersburg, doctors use specialized testing and recommend personalized treatment for women with overactive bladder.
2. Urinary incontinence
Bladder control problems can affect women of all ages and are a very common issue. By definition, urinary incontinence is the loss of bladder control which can lead to accidental leakage of urine. For example, women with urinary incontinence (UI) have trouble holding urine, particularly when they cough, sneeze or exercise. Caused by obesity, pregnancy later in life, childbirth and even menopause, UI affects roughly 57 percent of women between the age of 40 and 60. Treatments for the condition include exercises for strengthening pelvic muscles, medication, implanted devices, injections and surgery.
3. Recurrent urinary tract infections (UTIs)
Even though urinary tract infections commonly occur in women and can be quickly treated with antibiotics and other measures, recurrent infections may be a sign of a larger issue requiring the attention of a urologist. Women experiencing two or more urinary tract infections in 6 months, or even three or more UTIs in one year should see a urologist to explore the possibility of having a recurrent problem. The urologist will diagnose the issue using kidney scans, culture test and other tests, identify the actual cause of the recurrent infection, and recommend effective treatment for breaking the series of recurrent infections.
4. Kidney stones
While kidney stones are a more common problem in men than women, about 7 percent of women will have kidney stones at some stage of their life. There is a higher risk for a woman to develop kidney stones if she does not drink enough water, frequently eats meals high in protein, takes medicines that can cause kidney stones as a side effect, has had a stone before, has certain diseases, or is over 50. The stones can form in the bladder, ureters or kidneys and may be passed out on their own with high fluid intake or removed through different treatment options. If you are a woman experiencing extreme pain on your back, side, lower abdomen, groin, or pain during urination, vomiting, nausea or blood in urine, please visit St. Pete Urology in St Petersburg for immediate help.
5. Fallen bladder and bladder cancer
The bladder is usually held in position by the pelvic floor. But when the pelvic floor is stretched or weakened, particularly due to aging, menopause, obesity or prior pelvic surgery, the bladder may drop into the vagina, resulting in complications such as overactive bladder, urinary tract infections and urinary incontinence. Pelvic floor prolapse (also called fallen bladder or cystocele) can be corrected either surgically or nonsurgically by placing a pessary in the vagina to hold up the organs. Apart from fallen bladder, urologists are also recommended to treat bladder and kidney cancer.
Conclusion
If you are experiencing symptoms such as blood in urine, frequent urination, burning or pain when urinating, or pelvic pain, call or visit St. Peter Urology for help. Our urologists offer top-of-the-line comprehensive urological services to women and are committed to patient satisfaction. Evaluation of urological conditions includes a complete patient history, medical exam, urodynamics (bladder EKG), imaging, cytoscopy and all necessary lab tests. For more information on the treatment of urological conditions in women, visit the site, St Pete Urology.
Comments
comments