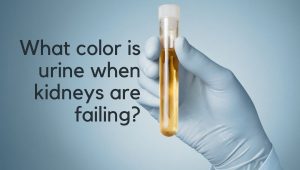 Kidney failure is a condition in which one or both kidneys can no longer work on their own. It may be due to an acute injury to the kidneys or a chronic disease that gradually causes them to stop functioning. When kidneys are healthy, they clean the blood by removing excess fluid, minerals and wastes. But when they are failing, harmful wastes build up in the body and excess fluid is retained, changing the appearance, amount and number of times urine is passed.
Clues from urine color
Urine can provide a lot of information about what is going on in the body, including kidney failure. It can be all sorts of colors, from pale yellow to amber, and even pink, orange or green. For healthy urine, the color ranges from pale yellow to amber-colored, depending on the body's hydration level. Pale yellow urine means high hydration while dark amber means more concentrated urine, indicating dehydration.
The pigment called urobilin (urochrome) causes the yellow color in urine. The kidney filters out this byproduct from the bloodstream and removes it from the body in urine. The more fluids you drink, the lighter the color of this pigment in urine. The less you drink, the stronger the color. For example, during pregnancy there is 50% increase in blood volume, so urine tends to be clearer and more diluted during pregnancy.
What urine colors are abnormal?
Paying attention to the color of urine can make you aware of your kidney health and alert you to the need for a medical checkup. Clear to yellow urine is normal and indicates normal kidney function, while odd colors such as orange or blue may be due to certain medications such as laxatives, antidepressants and antibiotics. But there are two colors that you must take seriously: red and dark brown.
Pink or red urine means red blood cells are present in urine. These colors may be a sign of infection, kidney stones or even cancer. Dark brown urine could mean you are extremely dehydrated, but if you drink plenty of fluid and the urine is still brown then you may have muscle breakdown, kidney disease or kidney failure.
What is the color of urine when kidneys are failing?
When kidneys are failing, the increased concentration and accumulation of substances in urine lead to a darker color which may be brown, red or purple. The color change is due to abnormal protein or sugar, high levels of red and white blood cells, and high numbers of tube-shaped particles called cellular casts. The presence of blood in urine may make urine appear red or the color of tea or cola. Dark brown urine occurs in kidney failure due to the buildup of waste products in urine or urinating less often and in smaller amounts than usual.
Foaming or fizzing urine may also be a sign of kidney failure, though foam is not a color and usually occurs due to increased protein in urine or kidney disease. Foamy urine indicates a diminished ability of the kidney to filter and clean the blood.
Treatment of kidney failure
Kidney failure can be a debilitating and life threatening condition with symptoms such as lethargy, weakness, generalized swelling, shortness of breath, congestive heart failure and fatal heart rhythm disturbances. If your kidney is failing, treatment of the underlying disease may be the first step in correcting the problem.
Many causes of kidney failure are treatable and visiting a urologist will ensure the underlying condition is diagnosed and treated to restore normal function. The urologist may also plan for control of blood pressure, diabetes or other underlying conditions as a way of preventing chronic kidney disease. But in some situations, kidney failure is progressive and irreversible. When that happens, the only treatment options are dialysis or transplant, each with benefits and drawbacks.
Whatever treatment your urologist recommends, you will need to make some changes in your life, including how you eat and plan your activities. With the help of your urologist, family and friends, you can continue to lead a full and active life. For more information on symptoms, diagnosis, treatment and management of kidney failure, visit the St Pete Urology website.